Tongariro National Park


So schön die JHB auch war, so ist das Gewusel morgens beim Frühstück sehr gewöhnungsbedürftig für jemanden, der ansonsten gewöhnt ist, alleine zu frühstücken. Das ist der Nachteil an so einer großen JHB!!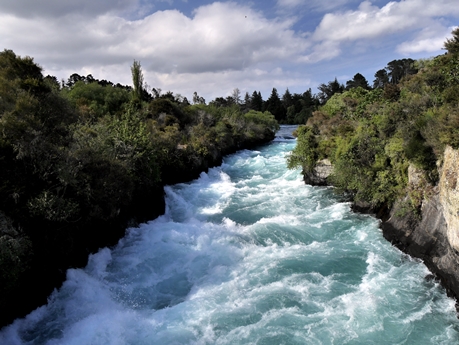 Heute brauchte ich nicht sehr lange fahren. Für die ca. 190 km von Rotorua bis nach Erua im Tongariro National Park hatte mein Navi 2,5 Stunden berechnet. Ich habe etwas länger gebraucht, da ich wie immer diverse Stopps gemacht habe.
Der erst war bei den Huka Wasserfällen kurz vor Taupo. Das spektakuläre an denen ist die Wucht der Wassermassen. Der Waikato Fluß an der Stelle eine enge Stelle überwinden, die ungefähr nur ca. 1/3 so breit ist, wie das normale Flussbett. Leider läßt sich die Kraft des Wassers nur bedingt in Bilder festhalten. Das beeindruckendste war das Getöse der Wassermassen.
Von dort aus ging es direkt weiter in den Tongariro National Park. Der erst Stopp war an einem kleinen See mit dem Namen Rotopounamu. Hier was das beeindruckendste nicht das smaragdgrüne Wasser des Sees, sondern der Wald, durch den man laufen mußte, um dort hin zu kommen.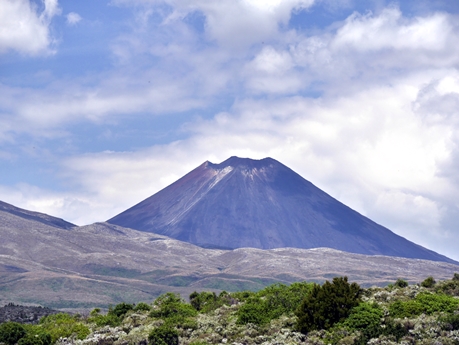 So einen urwüchsigen Wald habe ich schon lange nicht mehr gesehen. Was ganz anderes, als unsere "aufgeräumten" Wälder in Deutschland.
Danach habe ich meine ersten Blicke auf dem Mount Doom (Mount Ngauruhoe) geworfen!!!
Gegen 14 Uhr war ich am Backpackers habe mir erst einmal in Ruhe Mittagessen gemacht. Da alle unterwegs waren, hatte ich die Küche für mich, was sehr sehr angenehm war.
Ich habe wieder ein 2 Bett-Zimmer, aber dieses Mal mit einem Stockbett. Das ist mehr oder weniger die einzige Ablage, da ich dieses Mal noch nicht einmal Harken für meine Bügel habe. Aber ansonsten ist alles ziemlich sauber und die Leute sind ganz nett.
Für morgen habe ich mich mit 2 Leuten aus Karlsruhe zum Wandern verabredet. Die habe ich gestern in Rotorua in der JHB kennengelernt.
Übrigens habe ich gerade ein Gespräch überhört – einer hier im Hostel ist ein Pilotenanwärter der Lufthansa!! So klein ist die Welt.
--------------------------
As good as the YHA wa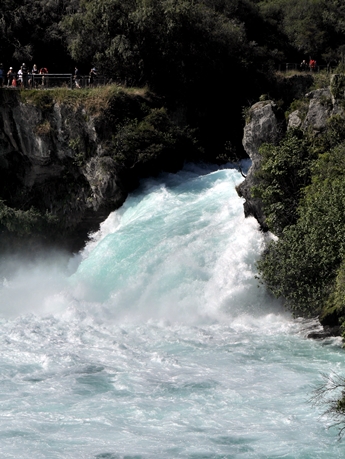 s, but I am not used to have breakfast with so many people at the same time, especially if everyone is running around trying to fix their own breakfast. That is the disadvantage of a big YHA.
Today I did not have to drive very long. My GPS estimated that I would need approx. 2,5 hrs for the 190 km from Rotorua to Erua in the Tongario National Park. However I took a bit longer as I had some stops on the way.
First I stopped at the Huka falls a couple of minutes away from Taupo. The most spectacular about them is the untamed energy of the water masses. At that point the Waikato river has to overcome a bottleneck. The riverbed is reduced to about 1/3. Unfortunately you are not able to capture the force of the water in a picture. The stunning thing was the roar of the water masses.
From there I drove directly to the Tongariro National Park. The first stop there was the small lake Rotopounamu. The most impressive was not the emerald-green water of the lake, but the wood which you had to walk through to get to the lake.
The trees and everything else was able to grow the way they want. Completely different than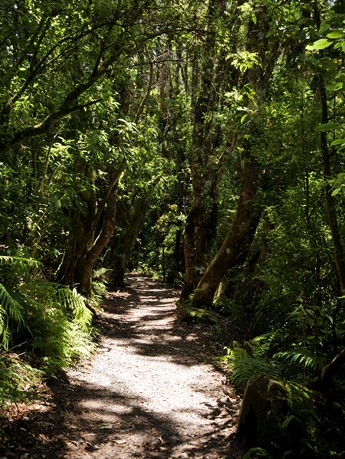 the "tidy" woods back home.
Afterwards I had my first look onto Mount Doom (Mount Ngauruhoe).
I was at the Backpackers around 2 pm and prepared my lunch. Since everyone else was gone, I had the kitchen for myself, which was really nice for a change.
I have a twin room again, but this time it is a bunk bed. The second bed is the only place to put things as I don't even have hooks this time and cannot use my hangers. But everything is quite clean here. And the people are nice.
Tomorrow I am going to hike with 2 people from Karlsruhe I met in the YHA in Rotorua yesterday.
By the way, I overheard a conversation – one of the guys here in the hostel is a pilot candidate from Lufthansa!! The world is getting smaller and smaller.
Heute war ich mit Angela und Heiko aus Karlsruhe wandern, denn das macht man hier im Tongariro National Park.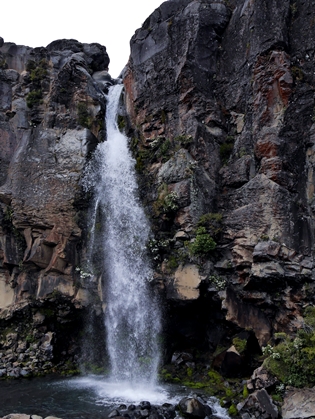 Normalerweise hätte das Tongariro Crossing auf dem Programm gestanden. Das ist eine ca. 19 km lange Wanderung über den Tongariro Berg und geht bis auf 1.886 m hoch. Das sind ca. 800 m rauf und dann 800 m wieder runter und für das Ganze hat man dann 8-9 Stunden Zeit.
Das hätte mein Rücken wahrscheinlich nicht ausgehalten. Wir haben heute eine "kleinere" Wanderung zu den Tama Lakes via den Taranaki Wasserfällen gemacht, die 5-6 Stunden dauern sollte (Länge 17 km, bis auf 1.240 /1.440 m). Aber mit vielen Fotostopps und einigen Pausen sind wir insgesamt auf 7 Stunden gekommen.
Die Wanderung war sehr schön und sehr anstrengend. Das schöne waren die unterschiedlichen Landschaften, die wir heute zu Gesicht bekommen haben. Von dichtem Wald bis hin zur kargen Hochebene. Zum Glück war das Wetter nicht ganz so gut, denn ansonsten wären wir in den Bereichen ohne Schatten "gebraten" worden!! Auf dem Hinweg hatten wir noch teilweise Sonne, aber auf dem Rückweg haben die Wolken überwiegt. Das war aber auch ok, denn die meisten Fotos haben wir auf dem Weg nach oben gemacht.
Anstrengend war die Wanderung nicht nur, weil es immer auf und ab ging, sondern auch, weil wir teilweise durch ziemlich unebenen Gelände mußten. Große Teile des Weges waren befestigt. Aber oftmals hatte der Regen einen Teil fortgespült und man mußte über Stock und Stein.
Eigentlich wollten wir nach der Wanderung ins Chateau Tongariro zur englischen Tea Time gehen - so richtig nobel mit Sandwiches und Scones. Aber dafür waren wir einfach zu staubig und daher ging es direkt zurück in unsere Unterkünfte.
Evtl. treffe ich die beiden in Wellingtion wieder, da wir alle zu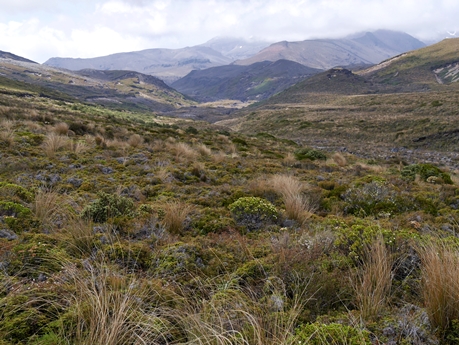 ungefähr der gleichen Zeit in der JHB übernachten werden.
Heute Abend werde ich nicht mehr viel machen. Das nette hier in dem Hostel ist, daß nicht viele Leute da sind und sich abends alle im Küchenbereich versammeln und eine gute Zeit haben!!
-----------------------
Today I went hiking with Angela and Heiko from Karlsruhe because that's what you do here in the Tongariro National Park.
First I had planned to do the Tongariro Crossing. That is an approx.. 19 km long hiking tour over the Tongariro Mountain that goes up to 1886m. That is approx.. 800 m up and down again. For the whole tour you have about 8-9 hrs.
My back probably would have never survived that. So we did a "shorter" hiking tour to see the Tama Lakes (Length 17 km, up to 1.240 /1.440 m). The track goes via the Taranaki Waterfalls and usually takes 5-6 hrs. But with all our photo stops and breaks it took us 7 hrs all in all.
The tour was very nice but strenuous. It was really great how many different landscapes we got to see today. From a lush wood to a scarcely grown over high plateau. Luckily the weather was not too good because otherwise we would have been "grilled" in those areas where there is hardly and shade!! On the way to the lakes the weather was not too bad (some sun, some clouds) but on the way back we mainly had clouds. So it was good that we did most of our pictures on our way up.
The hike was not only strenuous because of all the ups and downs, but also because we had to walk over rough ground. Most of the walk had been prepared for the hikers, but very often the rain had washed away the pathway and you had to go over rough and smooth.
We had planned to go to the Chateau Tongariro for some High Tea – really posh with sandwiches and scones. But we were so dirty that we went directly back to our hostels.
Eventually I will meet the two again in Wellington and both of us will be staying in the YHA there at the same time.
This evening I will not do much anymore. The nice thing about the hostel here is that there are not that many people here and those that are here all get together in the kitchen area to have a good time.